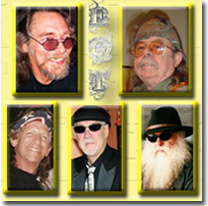 The founding members of Eric Quincy Tate are Donnie McCormick and Tommy Carlisle. Tommy and Donnie met in 1963 when Tommy joined Donnie's band "The Kings." The band had several regional hits cutting for the Jox label in San Antonio, Texas.
While playing in Texas, Eric Quincy Tate made a strong impression on songwriter/artist/producer Tony Joe White. White played an important role in getting the band heard by Capricorn Records in Macon, GA. Demos were recorded at Capricorn which caught the ear of legendary Atlantic Records producer Jerry Wexler. In late 1969 EQT inked a management deal with Phil Walden. They recorded their first album for Cotillion Records (subsidiary of Atlantic Records) with producers Tony Joe White, Jerry Wexler and Tom Dowd. In 1970, their first album titled "Eric Quincy Tate" was released on Cotillion.
In the early 1970s, EQT performed concerts with The Allman Brothers Band. EQT also performed with, among others, Little Walter, Ted Nugent, B.B. King, Johnny Winter, Wet Willie, Dr. John, Tony Joe White, Lynyrd Skynyrd, Papa John Creach, REO Speedwagon and Yes.
In 1976 EQT released "Can't Keep A Good Band Down" recorded live at The Whipping Post in Augusta, GA, with Sonny Limbo producing in association with Atlanta music icon Bill Lowery.
On September 9, 2006, original EQT band members Donnie McCormick, Tommy Carlisle, David Cantonwine, and Wayne "Bear" Sauls, reunited for a 37th Anniversary reunion show at Northside Tavern in Atlanta, GA. Producer/Engineer Stevie Hawkins recorded and mixed the historic performance for Emphasis Records, and the album titled "Thirty-Seven" is the results of show. This album is the last live recording made of Eric Quincy Tate, as Donnie McCormick and guitarist Wayne Sauls have both since passed away.