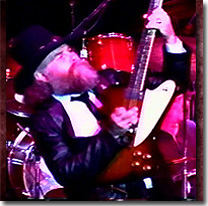 Guitarist Wayne "Bear" Sauls' career found him having the opportunity to share the stage with such greats as the Allman Brothers, Charlie Daniels, Warren Haynes, David Allan Coe, the Nighthawks, and many more. Bear was one of those fortunate musicians who lived, played, and contributed to the birthing of Southern Rock music. Throughout the years, Bear established a style that has been copied but never duplicated.
As lead guitarist for Eric Quincy Tate, Bear rode the wave of some of the greatest years of rock and roll. He joined the band in 1973 and performed nationally as well as recording on such labels as Atlantic, Cotillion, Capricorn, GRC Records, SLI Records, and Chikin Scratch Records.
In the early eighties he formed the Stone Mountain Band with long time friends Lou Thorpe and Ray Jarrell. The band played southeastern venues opening for artists such as Bo Diddly, Johnny Winter and Frank Zappa.
Through the remainder of the eighties, he played lead guitar for one of the hottest country bands of the day, David Allan Coe. Bear traveled internationally with Coe's band until the late eighties when he formed The Bear Facts Band.
For the remainder of his life, Bear continued to play and tour with The Bear Facts Band, becoming a mainstay at Daytona's annual Bike Week. Wayne Sauls lived an exceptionally rich life and overcame the odds many times, more than ever expected. He was, and still is, loved by all who knew him, and even by a few who only knew of him. Musicians who had the opportunity to share the stage with him will remember his fierce, undiluted stage presence. He had a way of looking at fellow musicians that would inspire them to explore their instruments in ways that they never imagined. His performance onstage was like his performance in life: unrehearsed and yet perfect every time.